Olive Oil Extraction – Sa, 17.11.2018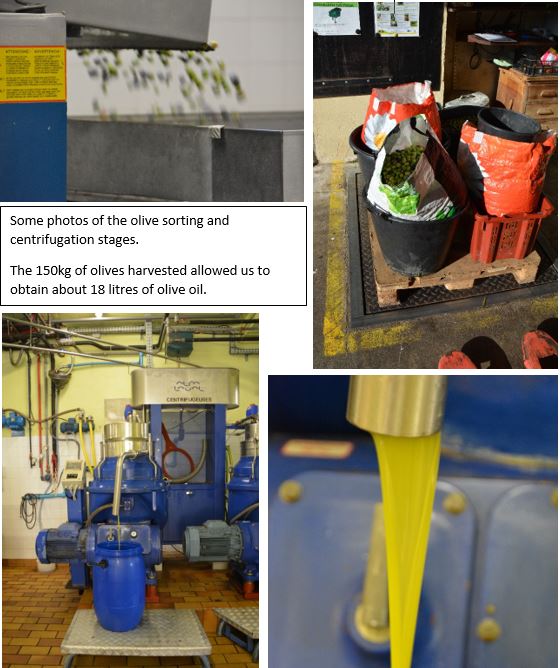 Introduction : The day after the CIV olive harvest, we went to the Moulin d'Opio to extract the oil and bottle it. The Erasmus+ project allowed us to finance this activity. The oil extraction process is totally mechanised, from the moment the olives are deposited to the moment the oil is obtained, it takes 2 hours.
Skills implemented: visiting an oil mill, identifying, extracting and organising information from the field.
Course of the activity: We brought the 150kg of olives to the mill and the oil was extracted cold by mechanical processes. The extraction line is fully automated and the oil is obtained approximately 2 hours after the start of the process. The oil is then left to "rest" for a fortnight before being bottled. The students chose stainless steel bottles, which allow for better conservation of the oil. We obtained 35 litres of olive oil from 150 kg, which corresponds to a yield of about 10%. Nicolas Prin, explained to us that this year's olives were waterlogged due to frequent rainy episodes during the spring of 2018. As a result they were not very rich in oil and we had a low yield. The students were able to see the impact of the environment on the 2018 harvest.
| | |
| --- | --- |
| | Dieses Projekt wurde mit Unterstützung der Europäischen Kommission finanziert. Die Verantwortung für den Inhalt dieser Veröffentlichung trägt allein der Verfasser; die Kommission haftet nicht für die weitere Verwendung der darin enthaltenen Angaben. |